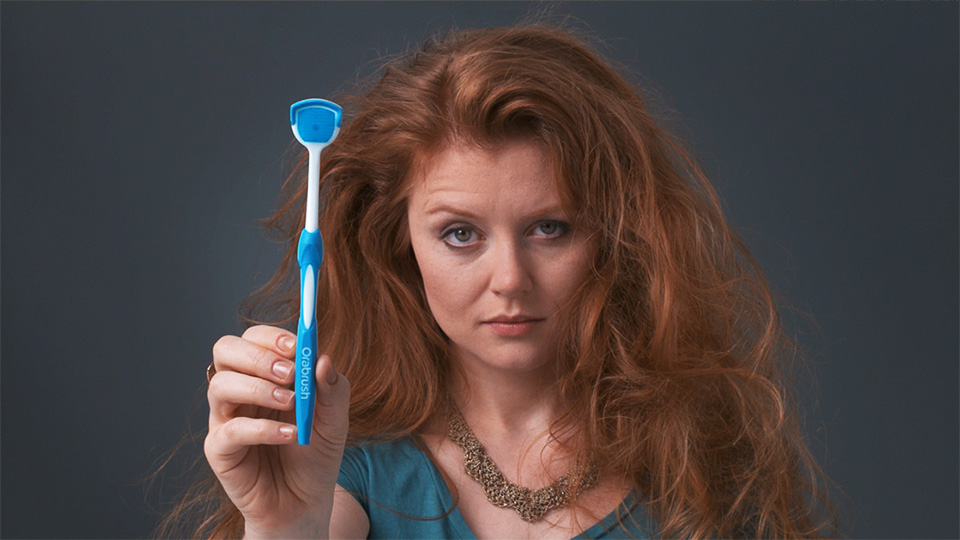 Brand Challenge
Prestige Brands came to True North to help reinvigorate sales of their tongue cleaner product, Orabrush. They needed to attract a younger customer and drive Millennials to drugstores around the United States and online to give Orabrush a try.
The Big Idea
Ninety percent of bad breath comes from a dirty tongue, and our team developed a campaign idea that connected with young men and women and made people feel the impact of those stinky tongues. And impact is what we delivered. Armed with a leaf blower and a Phantom slow-motion camera, we created the Breathtaking campaign, which is driven by a video that represents the sheer power of bad breath that Orabrush can prevent in a way toothbrushes can't.
The footage we created was engineered for today's consumer. We could chop it up into small bits and customize it for specifically targeted audiences. It was ideal content for social media as the footage of people being blown away was captivating when it auto-played in a newsfeed or Instagram post. We created gender-specific versions for Tinder and developed shareable GIFs that quickly communicated the campaign in fun memes.
The Breathtaking campaign shined and attracted a new audience, getting over 1.7 million views on Facebook and YouTube and over 670,000 impressions and garnering nearly 12,000 engagements across social. The campaign was also well recognized in the industry, winning 2018 Platinum Muse Awards for online ad campaign and health & fitness, 2018 Communicator Awards for social video and branded content, and 2018 W3 Awards for branded content and cinematography.
The Making of Breathtaking
Over

1.7 Million

views on Facebook

Over

670,000

impressions

Nearly

12,000

engagements on social