San Mateo County, California, has faced adversity before, such as earthquakes, and has persevered to recover and rebuild. The COVID-19 pandemic posed a new challenge by shutting down society and putting residents' health and livelihoods at risk. As people were becoming increasingly restless from the stay home orders, the County asked True North to create a campaign that could bring residents together, while also enforcing three core preventive measures:
1. Wash your hands
2. Wear a face covering
3. Practice social distancing
In concepting the big idea and overarching campaign line, we knew we needed something that would instill the personal responsibility aspect, making each and every resident understand that they play a role, while simultaneously providing the positive incentive of the county parks, beaches, and local businesses reopening successfully. San Mateo County residents were eager to get back to visiting friends, going to restaurants, and enjoying everyday life safely. The County wanted to tell them that we can do it—but it will take time and unity. We can come back together again.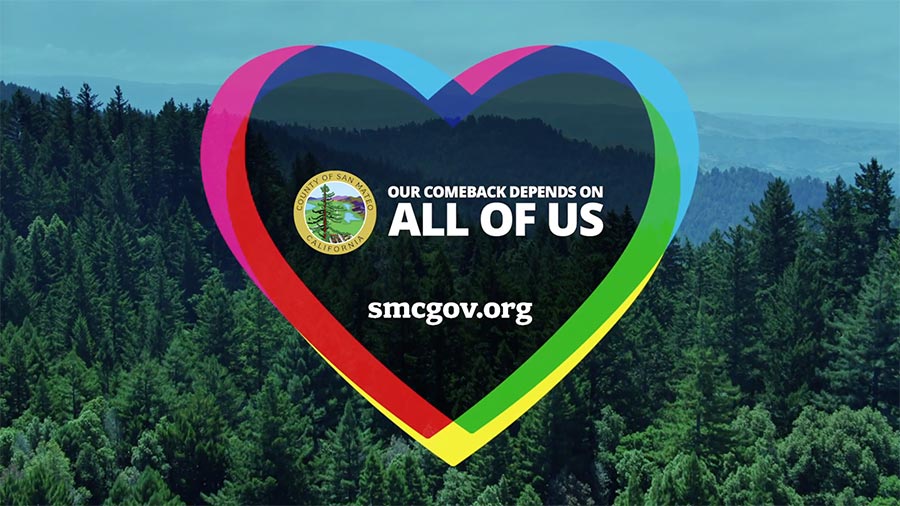 From San Mateo County residents in East Palo Alto to those in Half Moon Bay, we all play a vital part in our comeback and in stopping the spread of coronavirus. Our campaign evokes a spirit of unity in controlling the pandemic together, and it was translated into Spanish, Chinese, and Tagalog to ensure the diverse communities within the county got the important health message. We also rolled it out across a wide mix of media, including print publications, out-of-home ads, bus shelters and wraps, paid social ads, television, and window clings, clung to the storefronts of small businesses and public buildings to remind patrons how to stay safe.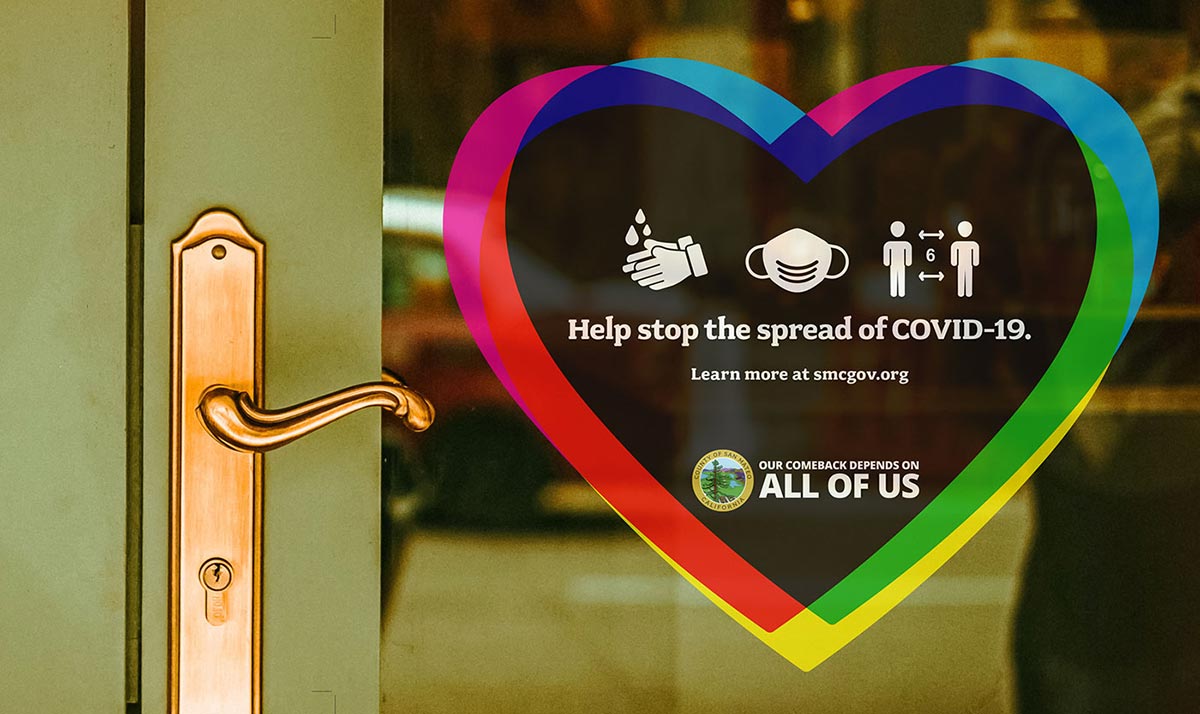 The colorful overlapping hearts balance out the motivating campaign line to bring much-needed warmth and unity to a divided climate. No matter your political views, this novel virus does not discriminate, and one person's actions breaking health guidelines could be detrimental to an entire community. Our campaign underscores how coming back and recovering from the impact of COVID-19 will truly take everyone: government officials, essential workers, multi-generational households, and frontline healthcare heroes alike. Our multi-channel approach reinforced our message reminding residents that it's up to all of us to protect each other and make a comeback.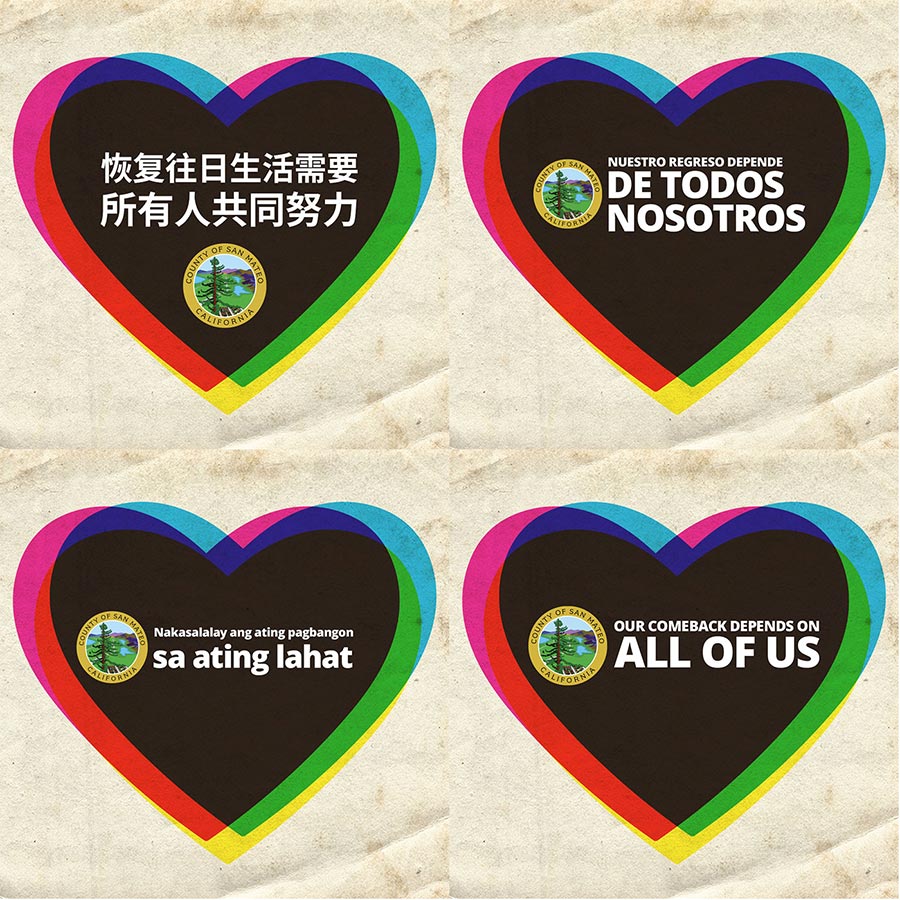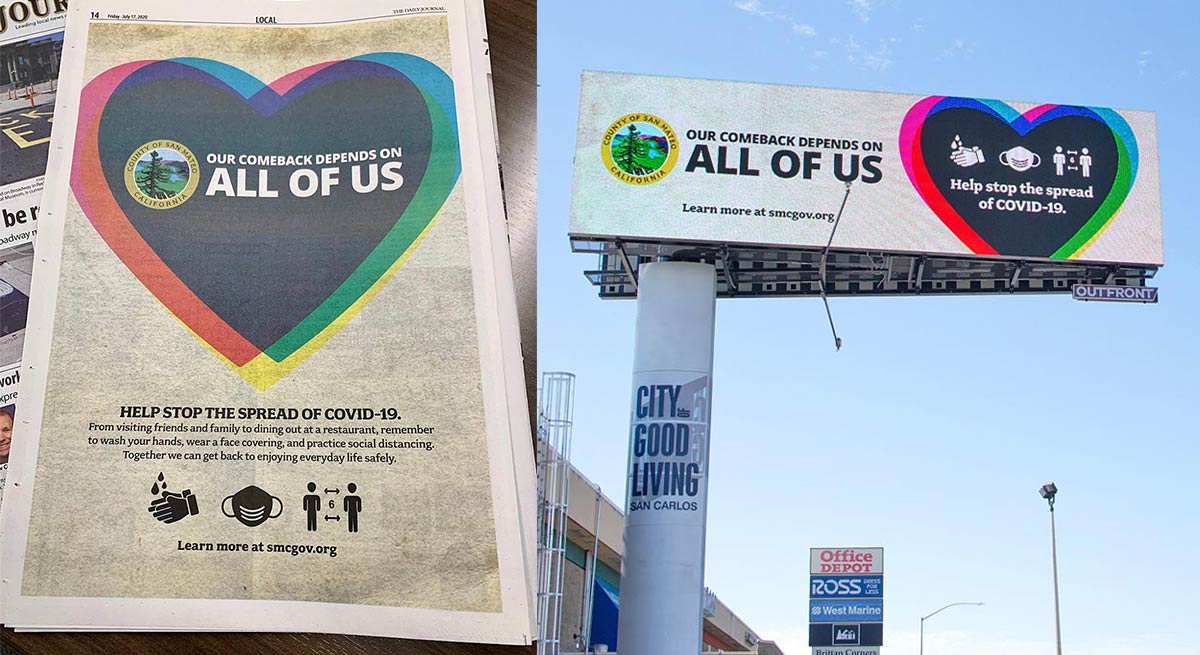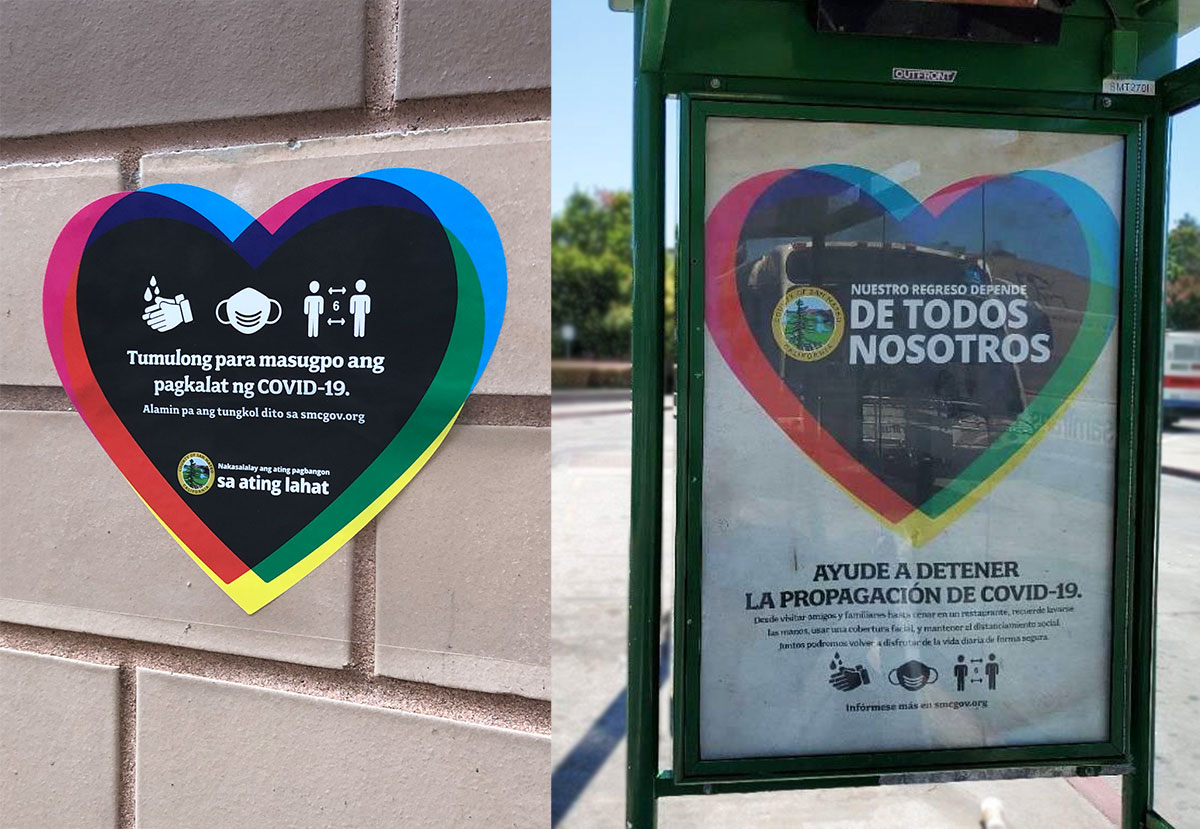 Measuring public sentiment is an imperfect process, but one that requires cooperation from every county agency. As Phase 1 of the campaign hit the market, True North convened with health officers, equity team members, and county managers to determine if the campaign was reaching every corner of San Mateo County, and how it was being received by key demographics. Recognition was high, and the campaign was spreading a positive message; however, there was a need for the messaging to shift to a more direct call for resiliency and tailored creative for Chinese and Spanish-speaking communities. An optimized Phase 2 campaign launched in February 2021.
Phase 2 of the Comeback campaign was the bridge between communicating health orders and driving vaccine acceptance. Phase 2 launched in February 2021 and spoke directly to hard-to-reach communities to build resilience and fortitude in the face of COVID-19 across the county.
Over

20.8 Million

impressions served in Phase 1

5,000 TV spots aired, leading to

90% Reach & 4.0 Frequency

with county residents in Phase 1

Over

10,000

engagements on social in Phase 1